Auditor Mary Hall is an award winning public servant who was elected County Auditor in 2013, re-elected in 2014 and 2018. Prior to being elected she spent 17 years as an elections administrator in Pierce County. She is a nationally certified Elections Administrator.
Highlights of Awards & Honors:
The National Association of Counties presented its 2022 Achievement Award for Thurston County's expanded election observer program. This program supports further transparency on election processes.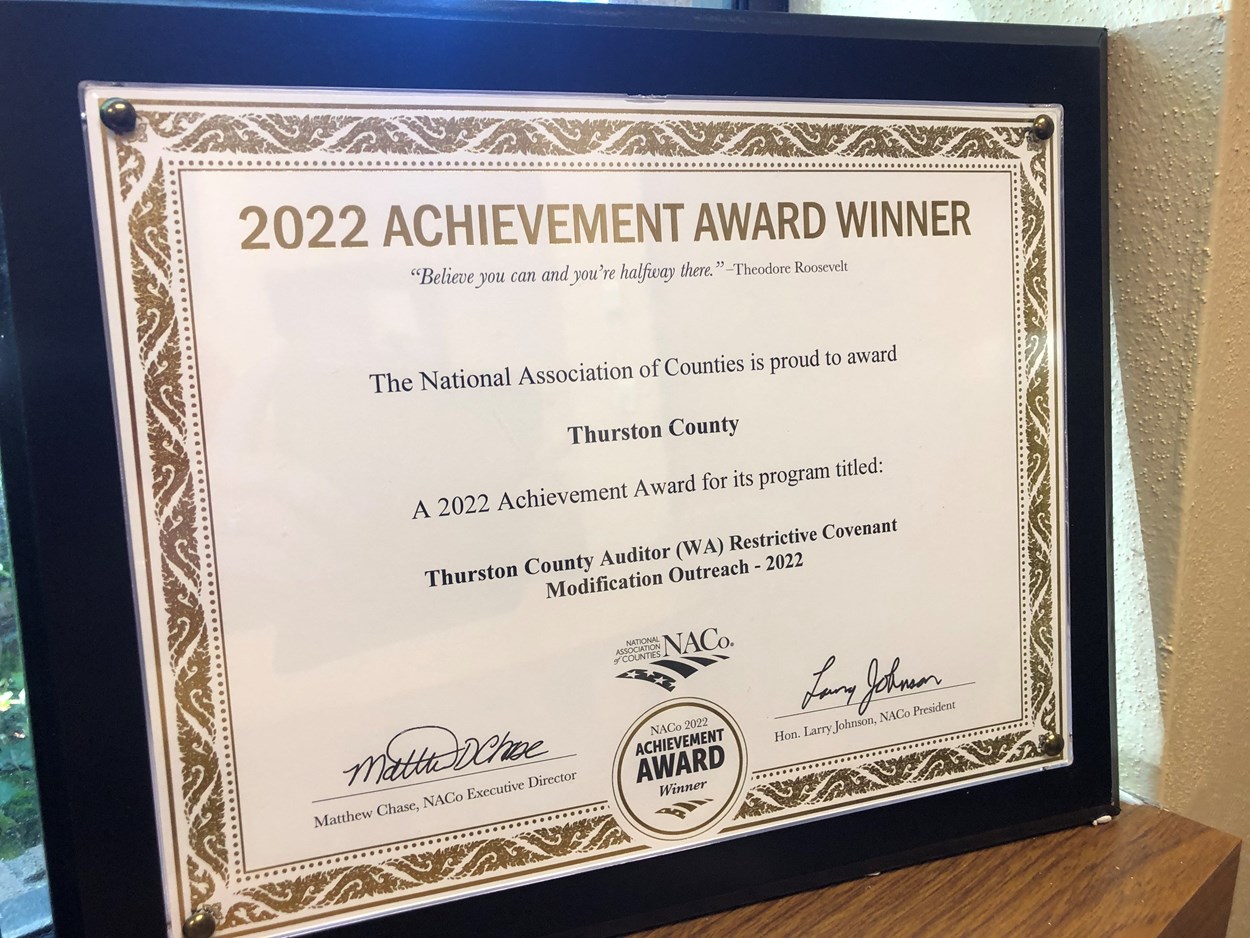 The National Association of Counties also presented a 2022 Achievement Award for Thurston County's Restrictive Convenant Modification Outreach program. The program seeks to eliminate decades old housing restrictions based on race.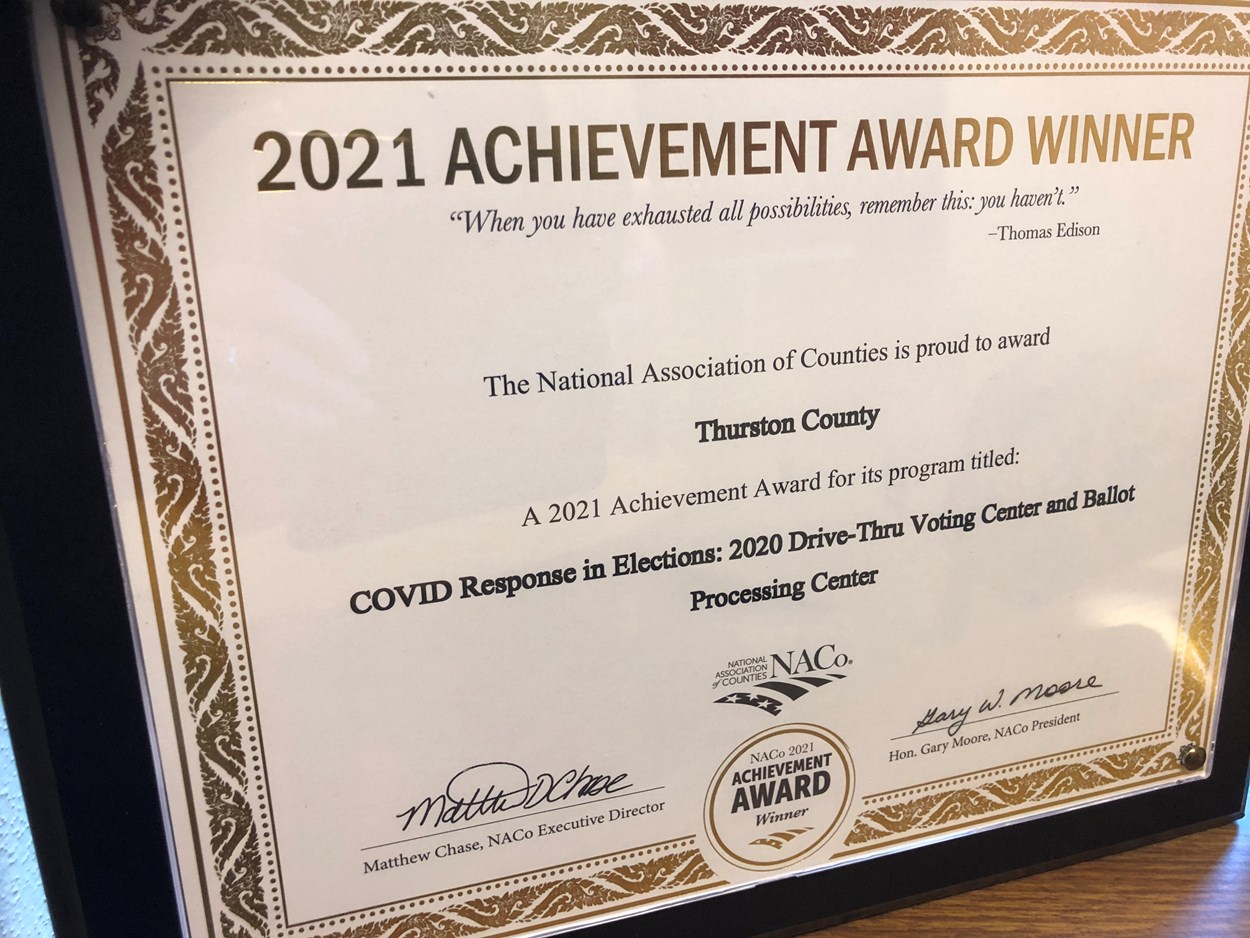 In 2021, The Nat'l Association of Counties recognized The Auditor for it's COVID Response in Elections with an Achievement Award. The Drive-Thru Voting Center and Ballot processing Center were honored for innovation, security, and ease of access for citizens to exercise their right to vote.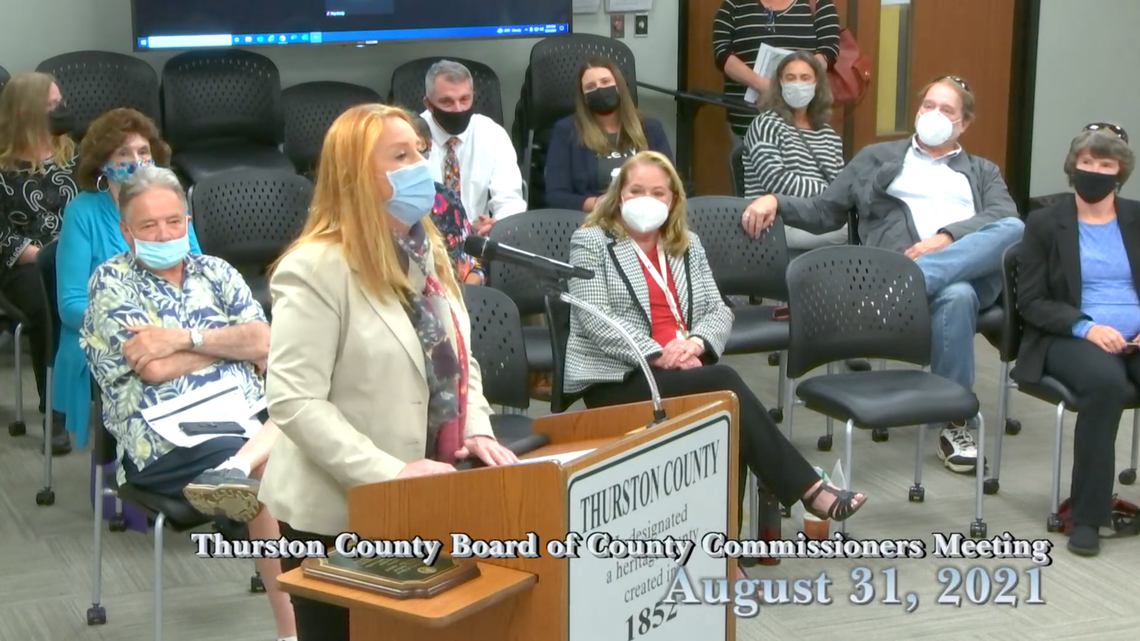 2020 Auditor of the Year award from Kim Wyman, Secretary of State, honoring Mary's integrity and commitment to the citizens of Thurston County. Washington has 39 County Auditors across the State.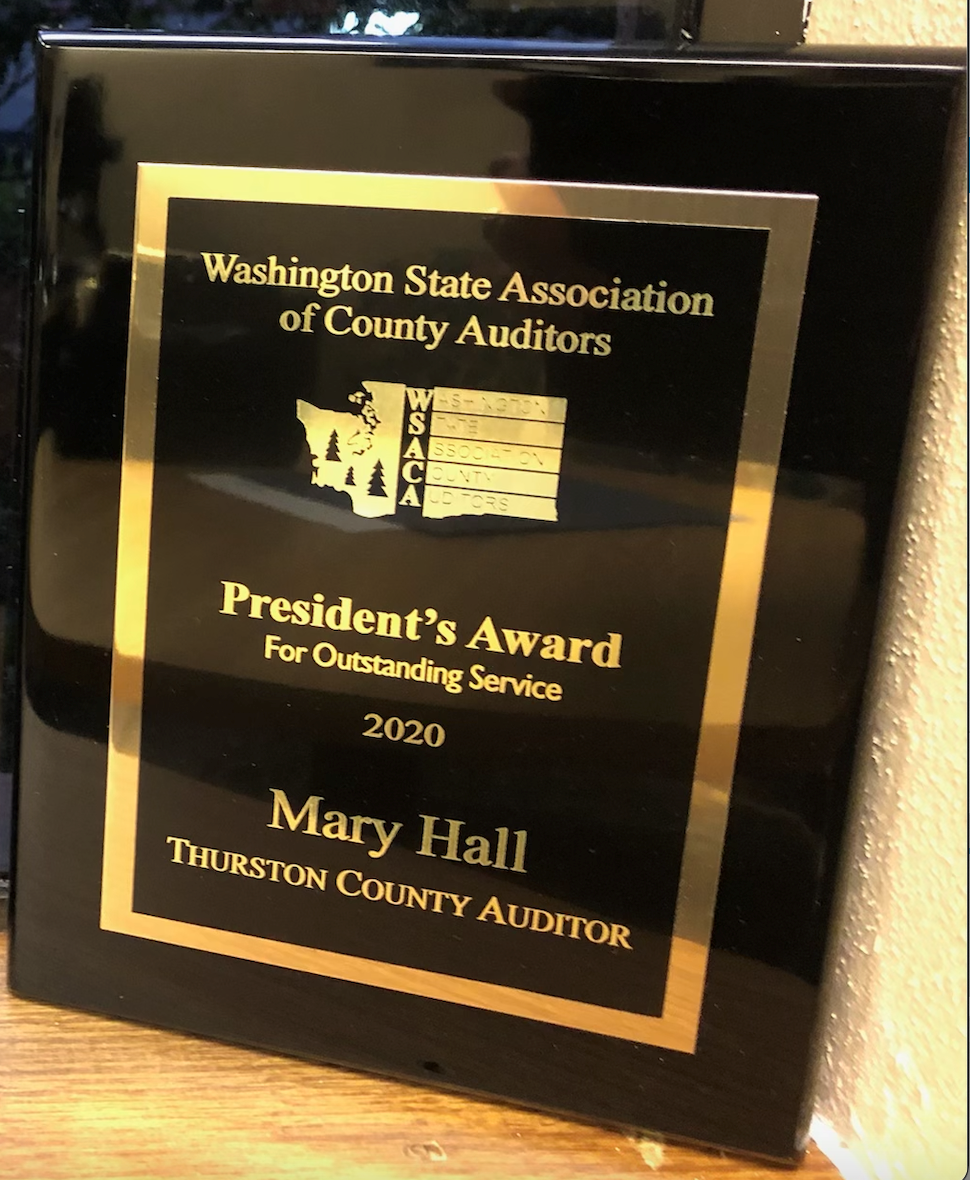 2020 Presidents Award for Outstanding Service from the Washington Association of County Auditors (WSACA) - Recognition from one's peers is often the highest of honors, as only those doing the work truly know what's involved at every level. To be honored by the Auditor's Association is indeed an achievement.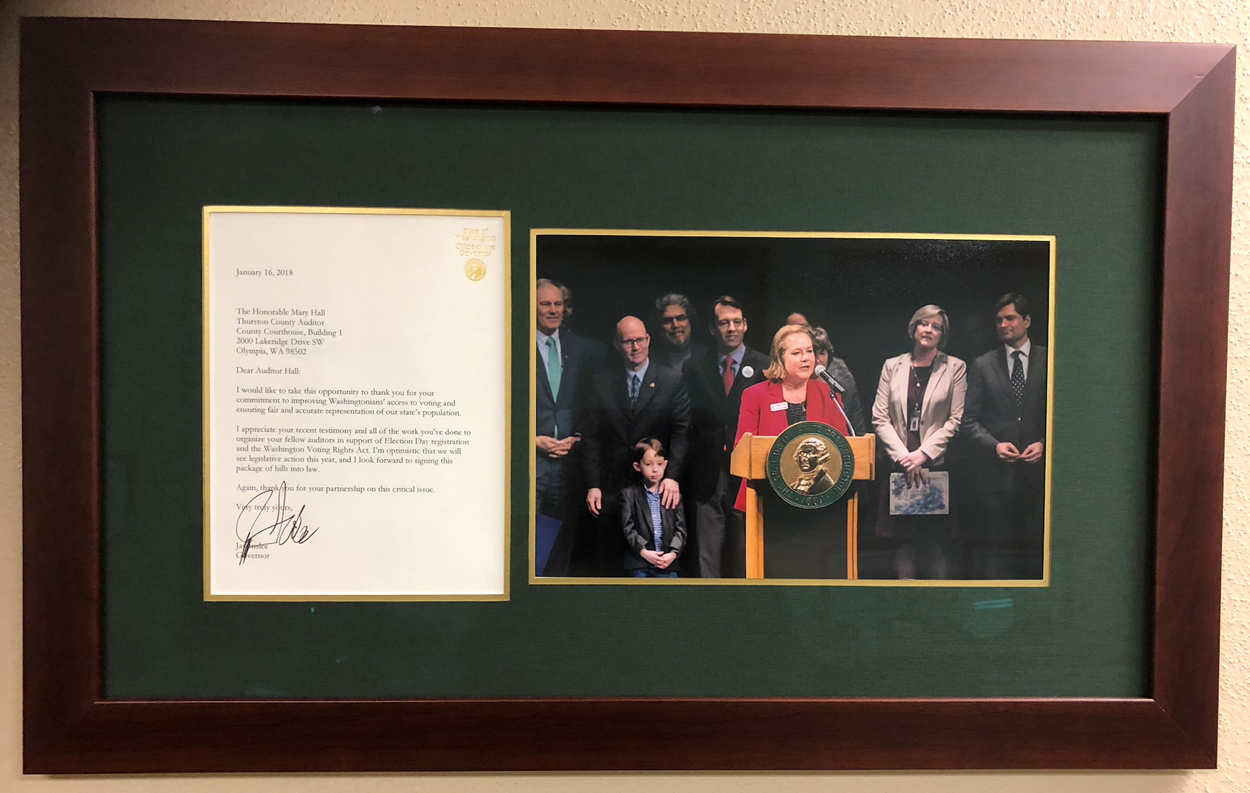 2018 - honored by Governor Inslee for her work rallying Auditors around the State to engage and support the Washington Voter Rights Act. This allowed same day registration and other key initiatives to improve voter access.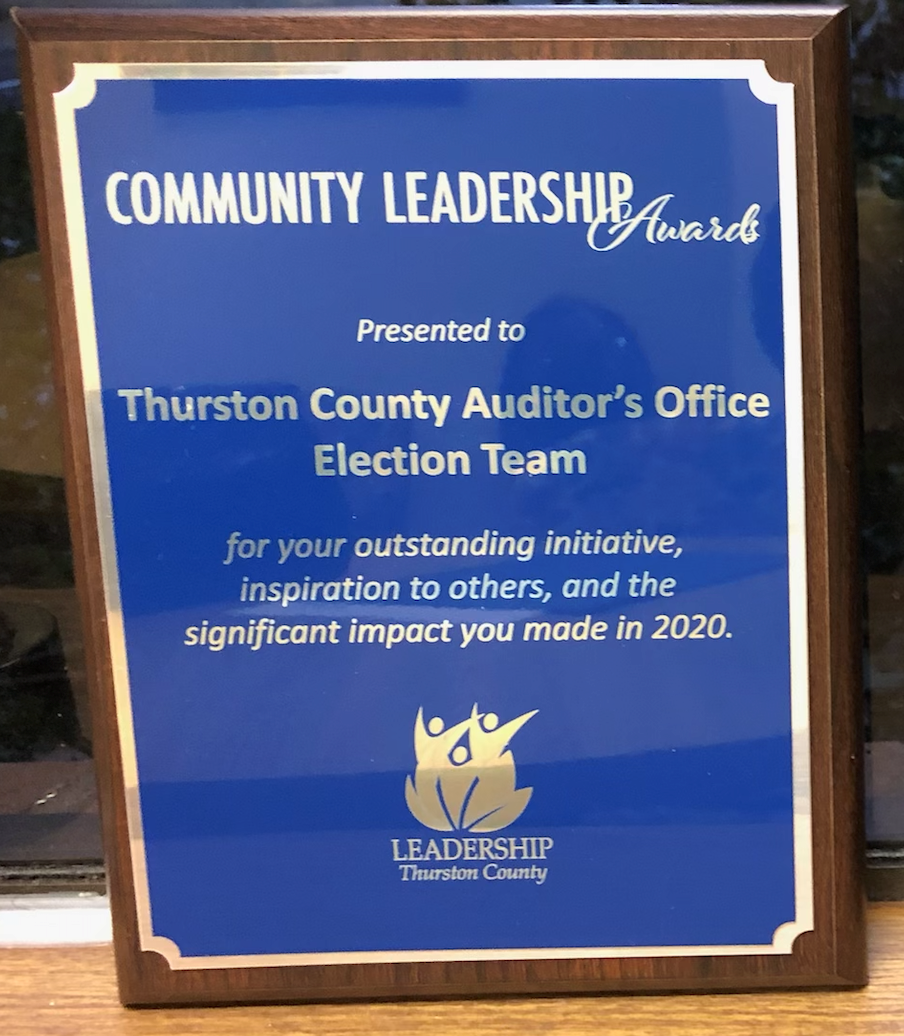 2020 - Community Leadership award, presented by Leadership Thurston County. This is a very special honor, as it recognizes the Office's entire elections team for its leadership. Mary has long supported a team approach in the office, and was so pleased to see recognition given to the team that makes it happen.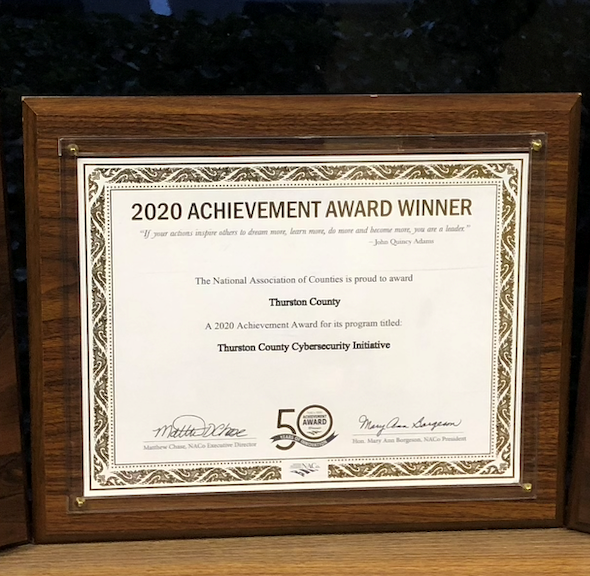 2020 Achievement Award presented by the National Association of Counties to Thurston County for its Cybersecurity initiatives, spearheaded by Auditor May Hall.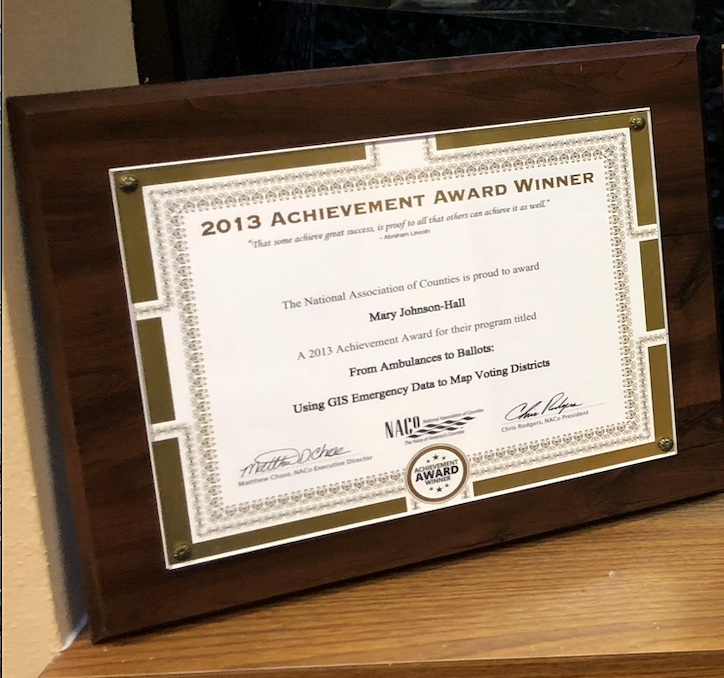 2013 Achievement Award, presented by the Nat'l Association of Counties, for innovative work on the program 'From Ambulances to Ballots: Using GIS Emergency Data to Map Voting Districts'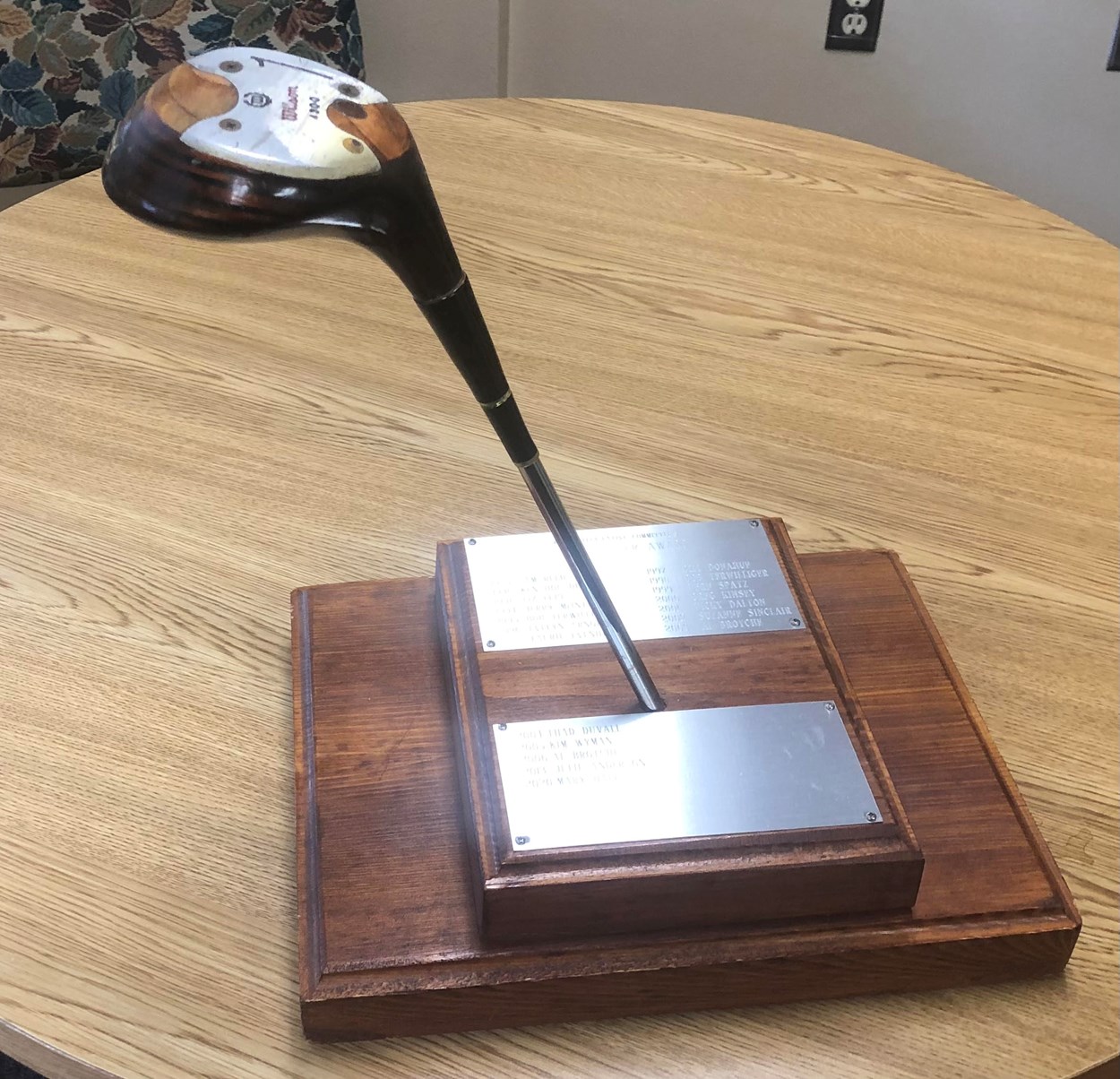 2020 WSACA Heavy Hitter Award for her successful work on important legislation. Over her years in office, Mary has worked on voter access and convenience, felon voting rights, election security, and many other issues. Local legislators consider her a key partner in moving legislation- as you can see in her endorsements from the 22nd LD legislators.
2020 Achievement Award for COVID 19 response during the 2020 Presidential Election from the National Association of County Officials (NACO).
2018 Achievement Award from NACO for founding the Thurston County Cyber Security Task Force